Dust Collector
Dust Collector is a kind of decontamination plant which is used to filter gas dust. It can be used in

Dry Mortar production line
Cement Industry
Chemical Industry
Power Industry
Iron Steel Industry
That is a kind of new type environmental protection Equipment.


PULSE JET DUST COLLECTOR
MAIN FEATURES
| | |
| --- | --- |
| | High Collecting Efficiency. |
| | Economically designed. |
| | Low maintenance & operative cost. |
It is entirely a new concept in pulse Bag Filter, offering high collection required by Pollution Control Authority's Norms plus the user's friendly design. Economy is achieved due to low maintenance, labour & energy saver. Available full range of sizes to suit the space, applications & others.

The Pulse Bag filter is continuous type dust collector capable of filtering dust laden air/Gas through the module inlet having baffle which distributes the air/Gas uniformly throughout the housing and falls heavy particles into the hopper(s). The dust laden gas passes thro' nos. of filter bags which retain the dust particles on the outer surfaces while allowing clean air/gas to pass thro' to the module outlet. As the filtering is going on, the dust begins to build up dust cake, which eventuality diminished the porosity of filter bags. This increases the pressure drops across the bag house.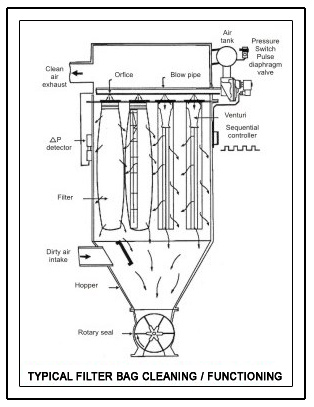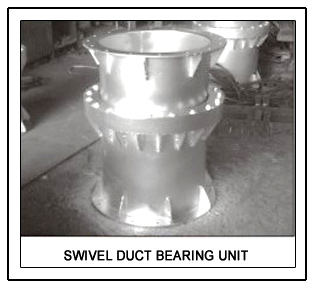 To maintain the moderate pressure drop, the cleaning cycle is employed provide continuous cleaning device. The cleaning device is of an electronic sequential timer, which actuates electric solenoid governing diaphragm valves. These valves deliver a momentary burst/pulse of high pressure compressed Air/Nitrogen through air distributing pipes into the bags. This pulse of air creates a Reverse airflow, which expands the filter bag to remove the collected dust. These procedures occur on row by row basis; therefore only a fraction of the total filter air is interrupted for cleaning, allowing continuous ventilation. The dust cake when pulsed from the filter bags falls directly into the hopper where it is removed by the dust disposal device like Rotary valve, slide valves, screw conveyers etc.